In the last weeks we have been continuously working on the course platform to make the data science learning experience even better 🎉✅💯. Today we are excited to share some of the updates we have implemented 🚀.
As a quick side note, last week we launched our new PRO course "Advanced Data Transformation", which gives you a head-start when bringing your data into the right shape and form. Feel free to check it out!
With that out of the way, let's jump right into the juicy updates: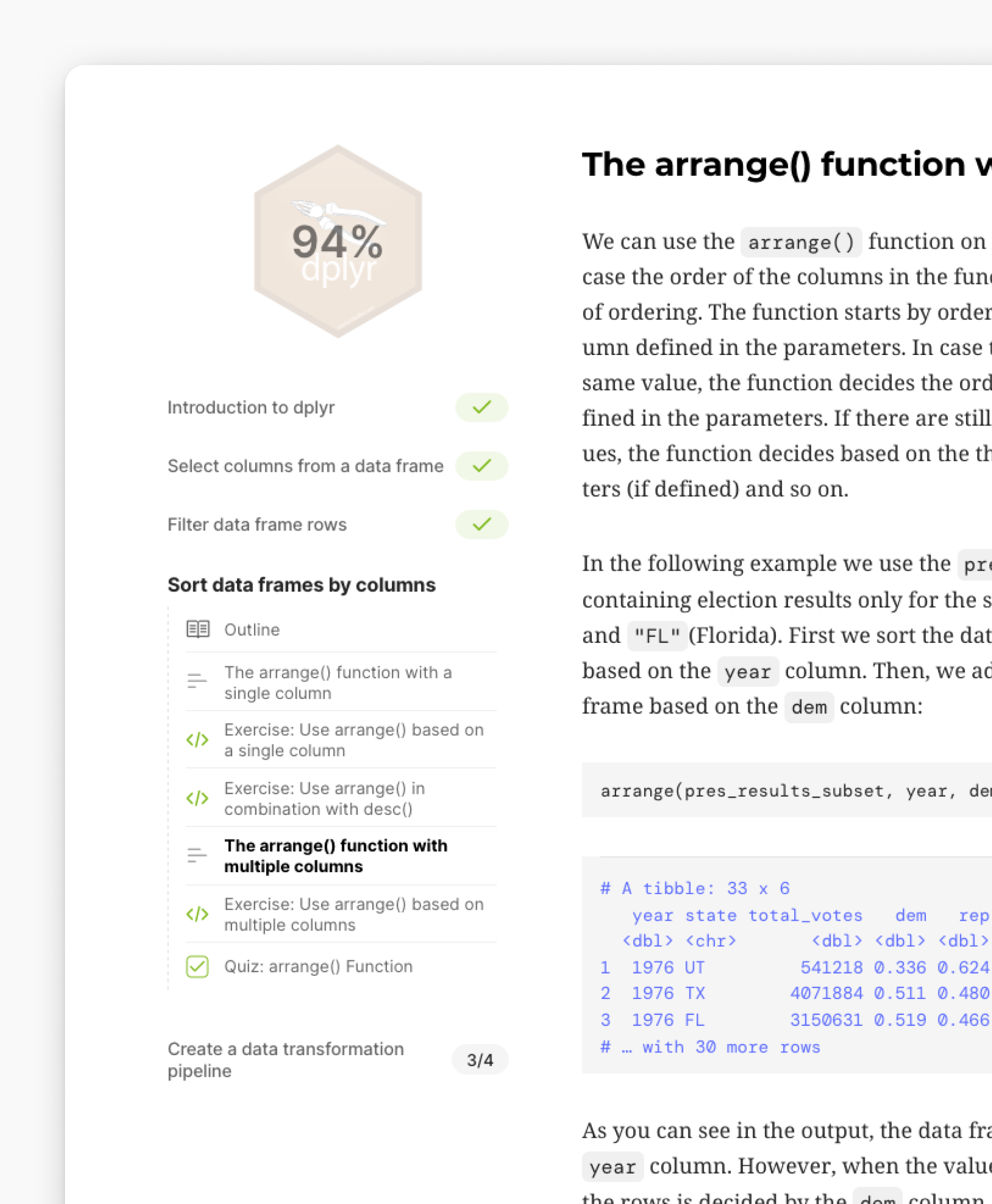 New Course Dashboard
The new course dashboard gives you an overview of your course progress and collected badges. You can quickly jump right into where you left off with a new "Continue Course" button.
This might come in handy if you often switch from your mobile phone to you laptop, and vice versa! The new dashboard also gives you access to your course certificate, which you can download right there as well.
These are the big ones, but as usual there are also many minor changes and fixes.
We plan to continuously improve this area further, and would really love to hear your ideas as well. Hit us up on Twitter, Facebook and LinkedIn. Or write us an email at info@quantargo.com!
More Courses Coming Up
R for Excel Users: Use R as a complementary tool to your current Excel workflow and learn how pivot tables and VLOOKUP can be implemented in R. Create reproducible transformations and use the power of RMarkdown reporting.
Machine Learning with tidymodels: Learn how all pieces of the tidymodels framework fit together and quickly create highly performing machine learning models.
Also don't forget that you can still finish the course "Introduction to R" for free until March 7th–you even get your personalized course completion certificate!
---
Get Access to all our current and future courses with our PRO subscription. PRO gives you access to all 15+ lessons and over 200+ code exercises and quizzes–teaching everything from beginner fundamentals to advanced data science topics.